5 BDSM Activities for Newbies
5 BDSM Activities for Newbies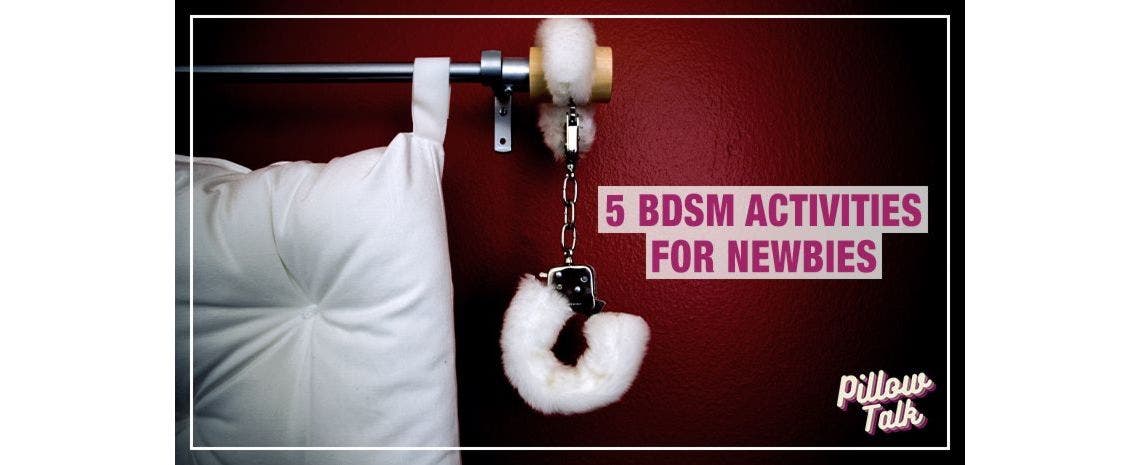 When people first learn about kink and BDSM, the extensiveness of the different activities under BDSM can be quite overwhelming; leaving newcomers wondering where they should start. If that sounds like you, we are here to help with five different BDSM activities for newbies to try out.
Temperature Play
Whether you like things hot or cold, temperature play lets you explore both ends of a thermometer. Glass toys are a great option for experiencing both temperatures. A glass wand can be kept in the freezer to get it cold or placed in boiling water to warm it up. You can bring on the chill with cooling stimulants and cooling lubes. The Tenga Cooling Vacuum Cup is a great option for solo temperature play as well. You can also use ice cubes to stimulate all over the body. If you are wanting to heat things up massage candles and wax play candles are great starting points. It is important to take it slow when playing with heat. Trying to do too much too soon can lead to someone being injured or burned, so don't rush it, listen to your body.
Impact Play
Impact play is one of the most common BDSM activities that kinksters engage in. If you are just starting out with impact play it is recommended to start with your hands before using toys, because you have more control and understanding of how much pressure and force you are applying. It is also important to learn the parts of the body that are safe to impact, you can learn from this guide which color codes the different parts of the body. After you have a good understanding of the body, how much force to use, and what you and your partner enjoy with impact play you can move to impact play toys. Paddles are good starter items and the Enchanted Heart Paddle is a great choice as there are two different sides making it easier to soothe the impacted area. As you gain more experience and hone your skills you can use other instruments like floggers, canes, and riding crops. If you are engaging in impact play it is important to also practice aftercare to soothe the body parts.
Restraints
If you've been intrigued by the idea of being tied up during sexy time, restraint play might be for you. There are a few different ways to ease into restraint play. You can start by just restraining the wrists with just handcuffs so that the individual can't use their hands unless you let them. You can use ankle cuffs to keep their legs in a specific position or a spreader bar to keep their legs wide open. If you want to do many different restraint configurations a bed restraint system will let you do multiple things from the comfort of your bed. Other ways to play with restraints are by using gags to keep yourself or your partner quiet during the fun.
Roleplay
Roleplaying is one of the easier activities to start your BDSM journey as it really only requires creativity and commitment. All you need to get started is some characters and a scenario. Roleplaying can be as simple or intricate as you and your partner like. If you struggle with coming up with scenarios there are so many different ideas already floating around the internet to give you a starting point. And if you need a little extra help with your character or role, roleplay lingerie does wonders for helping you feel more in character.
Consent & Communication
Consent and communication are very important, especially with kink and BDSM play! Be sure to talk with your partner prior to any activities, to ensure both parties are willing to participate. It must be an enthusiastic HELL YES! anything other than that is a NO to participation. Set your boundaries and come up with a safe word in case you need to stop the action. Map out your scene and talk about what items you might want to involve and how to use them. This way everyone is on the same page and there won't be any surprises that could potentially harm your partner.
No matter what activity you choose to engage in as you start your BDSM journey it is important that you take your time. Being kinky doesn't have a set timeline so you can move at a speed that is comfortable for both you and your partner(s). Also remember to practice aftercare regardless of the activity you are engaging in. It is also a good practice to get into as newbies to see what is going well on the journey and how you both are feeling after trying a new activity. The last thing to keep in mind as you begin your journey is to do your research. This blog gives you some ideas of where you can start but you should research to make sure you are engaging in all BDSM activities safely or at least as safe as possible.