About Lion's Den
Pleasure Pioneers for Over 50 Years
Since our establishment in 1971 in Columbus, Ohio, Lion's Den has been on the revolutionary side of history in providing safe, sexy, and educational ways to express our sexual freedoms.
Meet Founder and CEO, Mike Moran. Mike opened the first Lion's Den storefront in 1971 after graduating from Ohio State University as one of the first stores to cater to female customers and couples. From humble beginnings of only selling magazines and Ben Wa balls, the first suburban Lion's Den store flourished.
In 1985, it was time to expand. By 1990, Lion's Den was nearing ten total stores and began noticing that retail was far more beneficial than traditional arcades of the time.
Steering away from arcades and focusing on retail, empowerment, and education set Lion's Den apart. While Lion's Den was created on a foundation of being inclusive for everyone, it was at this time that Mike realized that women were especially being neglected in the industry. With a slight rebrand, Lion's Den is proud to be one of the leaders in pleasure products for every body.
Today, Lion's Den provides a modern, fun, and trendsetting place to shop online and in stores for everyone. Our team members have a great deal of knowledge and experience to help everyone, answer any questions customers may have, and provide guidance.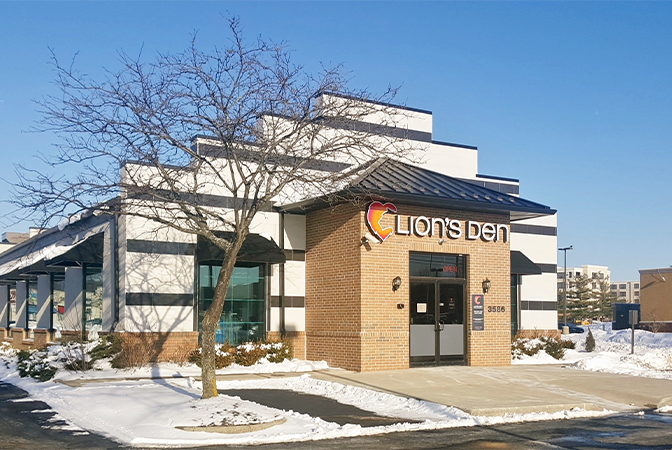 In 2021, we celebrated our 50th Anniversary. We consider it a landmark in innovation and acceptance.
---

2023 & 2017
AVN Award Winner
Best Large Retail Chain

2016
XBIZ Award Winner
Best Large Retail Chain
Feminine Forward
The Lion's Den was one of the first store chains to cater to female customers and couples and shy away from arcades. Over the years, Lion's Den has stood up to scrutiny, censorship, and backlash. We've fought countless legal battles in efforts to legitimize our industry as well as pioneering acceptance. We continue to blossom in forward-thinking approaches to changing the public's perception of erotic retail. We enjoy creating an environment that encourages healthy sexual expression and acceptance for everyone. We enjoy every transaction as an opportunity to support individuals and couples as they grow and learn through their expression.